Sketchs of Abstract Writing and Abstract Calligraphy
"Born in Barreiro,Portugal, just outside the city of Lisbon, the abstract artist Nuno de Matos grew up enamored of the graphic tapestries created by the French textile designer Jean Lurçat. He drew as a child and painted regularly in the 1980s during which he also experimented with various mediums that included Abstract Expressionism. His works, largely inspired by street graffiti seen on the streets in Lisbon's Bairro Alto and Barcelona's Barri Gotic districts during the '90s, have an acute Abstract Expressionist sensibility to them.
Nuno de Matos, who is also known by the moniker Matox, creates vibrant canvases that have distinctly graffiti-style backgrounds with delicate—almost luminescent—spirals. The layers of spray-paint are oftentimes punctuated by swirls of looping lines that seem to dance across his works, conveying movement and a lyrical whimsy.
As such, the almost musical appeal in these graffiti-style works by Nuno De Matos's has come to be identified as a sort of urban calligraphy. This is most apparent in his color-saturated series of canvases of post lyric abstraction.
sketch lyric abstraction by Matox 2011
The stark contrast in color and visual texture in Matox's works is also higly captivating because despite the fact that the many of the dense backdrops to his pieces appear to be haphazard mash-ups of mismatched shades, there is undeniably a sense of painterly deliberateness. And that's what gives Matox's paintings an allure that is emotional and also, in a way, highly personal.
Abstract Urban Calligraphy / Abstraction lyrique by Nuno Matox 2011
Post Abstraction Lirique Aemic writing by Matox 2011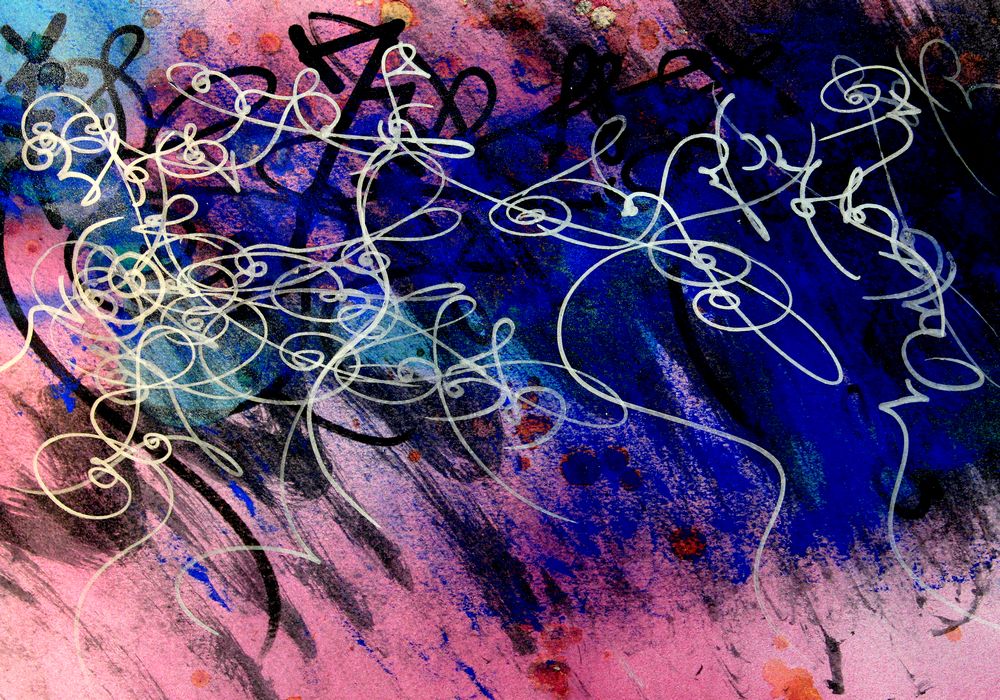 As Geoges Mathieu said years ago "Only the quick action can capture and express that which emanates from the depths of being without his spontaneous eruption is suppressed and modified by reflection and rational intervention"
abstraction lyrique actuelle par Nuno Matox 2011
TAGS : post-graffiti paris neograff barcelone post graff lisboa art graff perpignan post-graffiti expressionniste toulouse neograff montpellier expo art graffiti , post graffiti barcelona, influences graffiti new york, inspiration graffiti parisien , bairo alto lisbonne, alfama graffiti, art alfama actual ,french graffiti astist, line mix, in mix, inmix session, action art, threorie de l'action painting, visuel graffiti , art de rue, urban art, actual urban graffiti, montpellier graffiti, perpignan art contemporain, art contemporain catalan, catalan art exibition, american graffiti concept, graffiti americain post graffiti. une théorie de graffiti urbain, art actuel paris, france graffiti, fatcap graff, spray art, posca lines, posca art, posca graffiti, technique du graffiti, marqueurs, dessin, sketch posca, esquisses contemporaines, nuno de matox, artiste plasticien graffeur contemporain. Post graffiti contemporain, lignes rémanantes, exposition de graffitis sur toile, peintures abstraites sur toile, peintures rupestres de lascaux, peintures symboliques du Pech Merle, Culture Marseille, artiste contemorain, graffeur, graffiti marseille expo, expo graff, art abstrait paris, art abstrait marseille, montpellier graffiti exposition, 2009, Graffiti actuel, peintre abstrait, projection vidéo de graffitis, graffito expo, monte carlo graffiti, graffiti abu dabi, katar expo graffiti, peintures rupestres du Quercy, matox visuals Lisboa